Aims to ensure the welfare of girl's students and to make them aware of gender related issues. The cell would also act as a grievance redressal forum for women.
2018-19
Women's cell and National Service Scheme jointly organized a talk on Cyber security
"Cy-Know" on 15-02-2019. Mr. PriyeshK , Civil Police Officer , Thaliparamba engaged the session.
Women's cell in association with National Service Scheme celebrated International Women's Day with variety of programmes. Ms.C.K.Janu, Leader, Adivasi Gothra Maha Sabha inaugurated the programme.
Karate demonstration was done by Ms.Neha, NSS volunteer.
2016-17
Seminar on Gender Politics in Higher Education by Dr. Suneetha T V
In association with the College union, they observed Women's day on March 8 th
A gender sensitization class was organized with Dr Asha Lekshmi of Central University.
Arranged an interaction with a transgender Vijayaraja Mallika.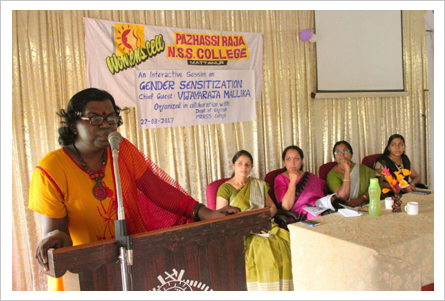 2015-16
Conducted a Seminar on women empowerment
2014-15
Training in umbrella making
Drive to remove plastic from campus
Soft skill development session in association with REACH
2013-14
Talk on 'Youth and Modern World' by Dr.Khadeeja Mumthaz
Seminar 'on Padanavum pareekshayum pinne njanum' by Sri. E.K. Suresh Babu
Personal counseling programme
2012-13
Class on legal protection and awareness for women
Counseling session for students
Talk on Gender Issues
2011-12
Seminar on Teenage issues
Training in ornament and greeting card making
Competitions on the occasion of celebration of International Women's Day