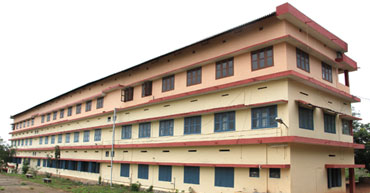 Envisioned by the illustrious leader, social reformer, and great educationist Padmabooshan Sri. Mannathu Padmanabhan and established in the year 1964, Pazhassi Raja N .S.S College is one of the pioneering institutions of higher education in Kerala.
Named after the great patriot, Sri. Kerala Varma Pazhassi Raja, the martyr who stands unique among the rich array of freedom fighters, Pazhassi Raja N.S.S. College had its beginning as a junior college in 1964. The college, popularly known as Mattanur College, is now one of the most prominent among the several educational institutions of Nair Service Society (N.S.S), a leading organization which renders its contribution to various service areas with several institutions of higher learning, like Arts and Science Colleges, Training Colleges, Engineering College, Polytechnic Colleges, High Schools, Higher Secondary Schools, Vocational Higher Secondary Schools,Hospitals and Paramedical institutions.
This College is the fulfillment of the long cherished aspirations of the socially and educationally backward people on the eastern provinces of Kannur district. During the initial period of its establishment this was the only higher education institution that accomplished its vision of fulfilling the requirements of higher education of the people in the neighboring villages. Situated on a beautiful hill near Mattanur, the college has an extensive campus sprawling over 105 acres, donated by the generous members of the local civic community.
True to its vision, the college aims at ensuring equity by providing quality education to students from diverse socio-economic backgrounds. Catering to the pedagogic needs and objectives of the region, our equitable educational system seeks to redress the socio-economic inequalities and to ensure social inclusion and socio-economic mobility.
Sri .M.P.Moidu Haji, the first chairman of the local committee whose services for the establishment of the college are unforgettable, laid the foundation stone of the college on 19 th April 1964.The inauguration of the Degree courses was done by the then President of Nair Service Society, Sri. Kalathil Velayudhan Nair on 12 th August 1967. Initially, the college was affiliated to Kerala University and after the formation of Calicut University the affiliation was under Calicut University. Since 19 th November 1995 the college has been affiliated to Kannur University. The college offers Post Graduate courses in Commerce and Mathematics since 1999 and 2014 respectively. In addition to academic achievements, the college has a unique reputation in arts, sports and games. The college has been making its mark in the University, Inter-University Youth Festivals, University & Inter University sports and games tournaments for several years. Ever since its inception, the institution takes pride in claiming to be one of the outstanding centers of higher education progressively achieving excellence in curricular, co-curricular and extra-curricular activities. In recognition of its endeavors and accomplishments in the realm of social, cultural, academic and non-academic spheres, The National Assessment & Accreditation Council (NAAC), Bangalore, accredited the College with B grade on 4 th September 2010, followed by its assessment and validation.