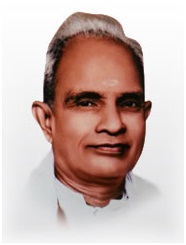 Padmasree Mannathu Padmanabhan (1878 - 1970)
instilled a sense of direction in the decadent Nair Community by organizing the people under the banner of Nair Service Society, a service organization equipped and committed to the cause of providing modern education, a positive outlook, a sense of purpose and a competitive edge.
The educational institutions spread across the state bear testimony to his visionary zeal. He is remembered for the yeoman service he rendered to the state of Kerala and its people. His inspiration and guidance will always be with us.